Welcome to the John Broven website with Golden Crest Records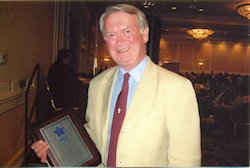 John Broven with his Blues Hall of Fame award
Golden Crest Records is an original independent label, founded in 1956; my three books are: "Record Makers and Breakers," "Rhythm & Blues in New Orleans" (originally "Walking to New Orleans") and "South to Louisiana: The Music of the Cajun Bayous."
Pelican Books of Gretna, La., has agreed to publish an upgraded print edition of "Rhythm & Blues in New Orleans," the first revised edition since 1978. More details to follow.
John Broven's new article, "Golden Crest Records: The Independent Record Industry Comes To Long Island" was published in the December, 2012, edition of Stony Brook University's Long Island History Journal. Link .
"Record Makers and Breakers" is now available as a Kindle edition ebook .
"Rhythm & Blues in New Orleans" and "South to Louisiana" will be republished as ebooks by Pelican Publishing Co. shortly.
This website aims to inform you more about me, the author, and my publications together with Golden Crest Records. Our main aim is to send you rushing to your collections to play all those great records again!

Available for lectures and broadcasts.



It is with great sadness
that I announce the passing
of my dear wife
Shelley Galehouse Broven,
owner of Golden Crest Records,
on Oct. 5, 2013.

Tribute & obituary

Golden Crest Records
I am incorporating in my website a
section for Golden Crest Records
, the Long Island, New York, independent label founded by my wife Shelley's father Clark Galehouse in 1956. Golden Crest enjoyed an enduring hit with "Tall Cool One" by the Wailers which made top 50 twice on the Billboard and Cash Box charts in 1959 and 1964. Although there was little other chart action, the label released the broadest spectrum of American music from rock 'n' roll, doo wop, teen and R&B to the classics, chamber music and jazz until 1984. Licensing enquiries are welcome through this website.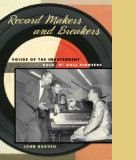 Record Makers and Breakers
Voices of the independent Rock 'n' Roll pioneers
Published 2009 - available in hardback and paperback in the US and Europe.
Based on my personal interviews with the pioneering record makers, whose truly fascinating stories explain how the independent record industry was created from its cottage industry roots. The book is a tribute to their American entrepreneurial spirit and their artists' enduring music.
More info ~ Reviews ~ Interview & Book Excerpt