Rhythm & Blues in New Orleans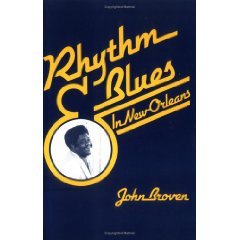 First edition 1974, updated second edition, 1978. Published by Pelican Publishing Company, Gretna, Louisiana.
New, revised and updated reprint due Fall, 2015 - read more
Originally published as "Walking to New Orleans: The Story of New Orleans R&B"
by Blues Unlimited Books (1974) [out of print].
Introduction to the article, "A Blues Lover from Britain," by Vincent Fumar in Dixie, the magazine of The Times-Picayune in New Orleans, Nov. 20, 1983:
John Broven is a[n] … English banker who loves to play cricket and ride horses in the Sussex countryside. He is also one of the foremost authorities on the subject of Louisiana music.
In his landmark book, "Walking to New Orleans," Broven compiled biographies of dozens of neglected musicians and brought them together in the first comprehensive history of New Orleans rhythm and blues. It changed the face of music in the city.
Local fans began looking into the forgotten tradition of r&b. And they started looking for the forgotten musicians who had created it.
Published in 1974, "Walking to New Orleans" helped trigger comebacks and record sales for Professor Longhair, Ernie K-Doe, Irma Thomas, James Booker and a long list of others. It also sparked changes for Broven, who became a hero in Louisiana music circles and a respected scholar back home in England.
BUY NOW from Amazon.com